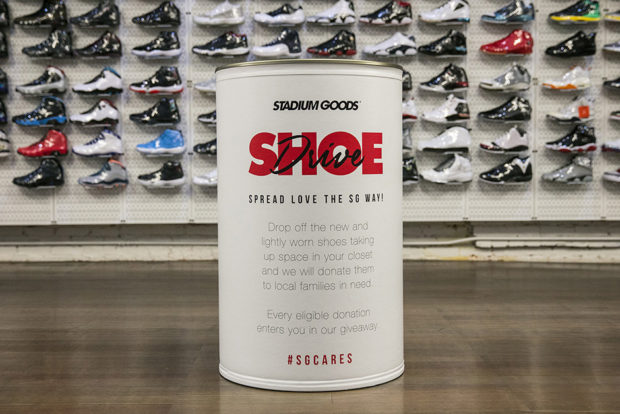 When you're discussing legendary East Coast sneaker resell shops, a name that's gotta be at the top of your list is Stadium Goods. They've got some of the rarest sneakers and apparel you'll ever lay your eyes on, and even though some would say their prices are a touch on the high side, they've established quite a name for themselves over their years in business … and now they're using that name and reputation to help give back.
They're hosting a shoe drive and encouraging their customers to "show love the Stadium Goods way" by donating their new and lightly worn shoes so they can deliver them to families in need. As sneakerheads, we all know that we'll have pairs sitting in our closet that we really don't need and won't wear … and a drive like this gives us the opportunity to give back.
And Stadium Goods has also sweetened the pot for their donors. Every eligible pair donated grants the donation maker one entry into a raffle for a chance to win a pair of Yeezy V2's or Space Jam XI's. Donate some jawns you don't want/need that someone else could use to win some jawns that you do want? Sounds like a win-win to us.
The only catch: you have to bring your shoes into the store to drop them off, you can't mail them. Us Minneapolis folk can't really enter (unless you happen to be in NY right now!) … but at least we can admire Stadium Goods trying to do some good from a distance, and there's nothing wrong with that!
What do you think of Stadium Goods's shoe drive? What pair would you want to win in their raffle? Let us know in the comments or on Twitter, check our Facebook page for daily updates, and, as always, be sure to follow us on Instagram for all the fire sneaker pictures you can handle.
Share KicksOneTwo