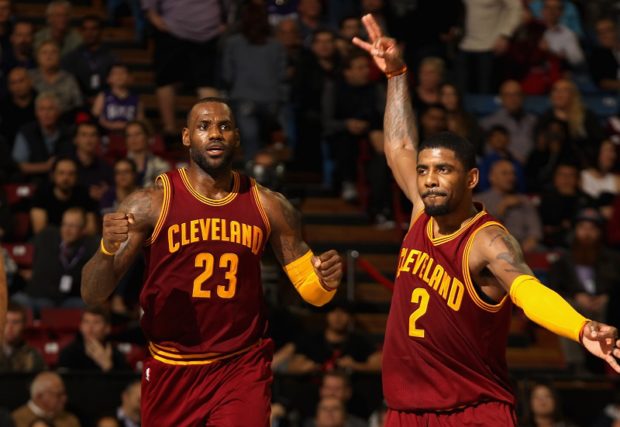 It's a good time to be a Cavs fan. Your team's doing well in the playoffs and look like they're primed to repeat. You've got the best player in the game (yeah, we said it), an elite point guard, and a strong supporting cast. Your team's on the up-and-up like usual … and their shoes are selling too.
Forbes.com recently reported that LeBron James and Kyrie Irving's signature shoes are the #1 and #2-selling signature basketball shoes on the market, and even in a down market for signature sneakers, this is something to be proud of. LeBron's recent price drop on his shoes (they're no longer $200) appears to have worked in his favor, and Kyrie's lightweight, affordable and well-designed shoes are clearly moving just as well as always.
Some would think that Kyrie's shoes might sputter out similar to Stephen Curry's (the Curry 3's are flat-out ugly and hold a place on many a shameful sale rack), but we don't see that happening. With their lightweight, minimal design, and Kyrie's wizard-level play, we see them staying hot for the foreseeable future. And if Cleveland wins the championship this year (which we think they very well might), then both shoes will continue to be hot all year long. Mark our words.
Cleveland's hot right now and they're not showing any signs of slowing down, both on the court and in the footwear arena.
What do you think of LeBron and Kyrie's signature shoes? Which one do you prefer for hooping, and why do you like it? Do you think the Cavs will repeat as NBA Champions this year? Hit us up and let us know in the comments or on Twitter, check our Facebook page for daily updates, and, as always, be sure to follow us on Instagram for all the fire sneaker pictures you can handle.
Share KicksOneTwo